TSL oil strengthener - 0.25 ltr with free syringe
Oorspronkelijke prijs
€33,30
-
Oorspronkelijke prijs
€33,30
A fantastic product, reduces internal friction in engine and manual transmission.
Tried several times in practice and almost immediate noticeable improvement. Safe to use in your 924/944/928/968. Often directly less noise from the hydraulic tappets. Especially when an engine has done some more kilometers. TSL is also suitable for turbo's and for smoother gear shifting. Comes with a sticker to stick on the oil filler cap, for example. Preferably to be added to fresh oil.
What is TSL? 
TSL is an oil enhancer that noticeably increases the lubricity of your oil, giving you less wear and tear, less noise, fewer cold start problems, and lower fuel consumption!
Features: 
Fuel-saving 
Reduced maintenance costs, friction and wear 
Protects against contaminants
Protects against high temperatures 
Description: 
TSL is the scientific solution for lubrication where traditional and synthetic lubricants and additives fall short. The combination of both active and passive ingredients in TSL will significantly improve the performance of your oil, after adding TSL.
Originally developed for extreme applications, TSL also proves to give unique properties to traditional lubricants under normal conditions, reducing friction resulting in less wear, lower operating temperature and therefore energy savings.
How much do I need?
Engine oil: At first application in use 50cc per liter and thereafter at each oil change 30cc per liter.
Other uses: At each repetition 30cc per liter.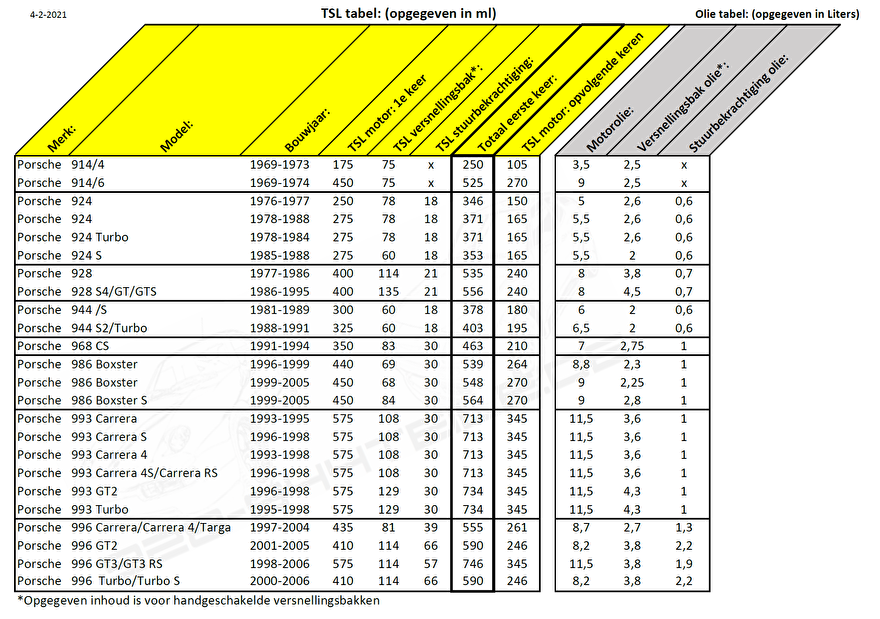 Package Contents: 
TSL oil strengthener 0.25 ltr

Injection syringe 50 ml (one time per order) 
Sticker for oil filler cap 
TSL includes: 
Turbine Grade Anti-Oxidants (prevents oxidation)
Detergent Additives
Dispersant Additives (prevents deposition)
Foam Control Agents (prevents foaming)
Rust Preventatives (prevents rusting)
Corrosion Preventatives
Passive EP Agents (lubricates at extreme pressure)
Active EP Agents (lubricates at extreme pressure)
Friction Modifiers (reduces friction)
Pour Point Depressants (lowers solidification point)
Auto-Ignition Inhibitors (prevents self-ignition)
| Specification | Description |
| --- | --- |
| Condition: | New |
| Suitable for: | All vehicles |
| Brand: | TSL oil |